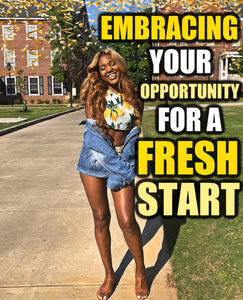 Embracing Your Opportunity for a Fresh Start
Happy New Years Eve!
If you've been following me for some time now you know that I'm not a huge fan of many holidays. However I consider myself to be a very optimistic person. Although I'm a Grinch around Christmas time, New Years is my favorite holiday and I find great excitement and motivation with the start of the new year.
In comparison to holidays like Valentine's Day when you need a significant other, or Christmas and Thanksgiving when you need family to celebrate, New Years is a holiday where you can reflect on yourself, your growth from the past year, and your new goals. As an individual who is super conscious about my personal growth, I find the New Years holiday to be helpful for me to evaluate the things that went wrong and or went well in the past year in order for me to improve in the future. I love the refreshing air of new beginnings that circle in the atmosphere at the end of December. It makes anything seem possible. It closes old doors, and starts a new chapter with blank pages free for you to write to your heart's desire in the book of life.
  Now I know it's silly to gain a burst of optimism between       December 31st and January 1st, but there an unexplainable   feeling that a new year brings me. I can go into New Year's   brave, as if I've never flopped before. Happy as if I've never had   lost before, and ambitious like I've never failed before. That's the   optimism the New Year brings me. I see the New Year as a true   fresh start and when I rightfully prepare for New Year with new   goals, it feels like I can accomplish anything I put my mind to.   With God and positive manifestation, I feel as though I can see a   prosperous, successful future, that is ready to begin at 12:00 AM.
Even though most people treat New Years Eve as an opportunity to get sloppy drunk, or sulk in remembrance of the unsuccessful year that's just past, I hold power in letting a new date create a new start where anything and everything can happen to bring me more happiness, prosperity, money, love and success!
We are all aware of this power, but I understand first hand how it is easy to neglect the want for bigger and better. I've noticed that when I feel discouraged at the end of a year, as though all twelve months has been unsuccessful or full of failed attempts, heartbreaks, and lost relationships, I can't muster up the optimism t
o wish for more in the New Year. For example, 2016 was not a good year for me. Of course, I had great moments, but overall, when it was time to transition to 2017, I knew that any year could be better than the one I had just experienced. Playing it safe, I didn't set goals for the new year and then I found myself too afraid to take many chances, and as a result, I hindered my growth and opportunities in 2017 as well.
As I mentioned, I am big on reflection, and by doing so recently, I finally see the error in my ways. Playing it safe after a "bad year" will not make your next year better. Contrastingly, it will keep you stuck. You must go fearlessly into each New Year as though you've never lost, you've never failed, or you've never heard the answer no. You must dream bigger, regardless of your fears. I know this is very scary to do, but keep this in mind: a year of "darkness" or misfortunes, is when you are planting your seed. Continue to work hard, and you will be watering your seed that will harvest in the next year. That time in the dark was what your hopes and dreams needed to grow for your next year of harvest! Set the bar high, make new goals that scare you, after good and bad years, and watch how they manifest overtime! Never forget that if the current season has brought rain, the new season will bring growth.
Everyone has the power to use New Years as a fresh start, it is up to you to fill it with optimism. I'll try to help you get in the mindset. Imagine… January being a BIG month for you. It represents a new start. Let go of bad energy, negative thoughts and anything that no longer grows you. Use this year to create space for all you desire. You have a fresh start ahead of you, so be ready to grow, heal and upgrade in every area of your life.
Understand that there is a certain kind of energy required of you in this New Year. Pay attention to who you have around, what your watch, listen to, and put in your body. Take this time to stop acting small and step into your greatness. Your magic and light was never meant to be stifled. Stop settling and demand your elevation. It is up to you! Put in the work and watch your greater dreams be fulfilled in 2019!
  In my first blog post of 2019, I'll talk about the questions I ask myself to refle
ct on 2018 and   foster my growth for the upcoming year. Please subscribe to my   mailing list to receive notifications for when I post blog posts, I'd   love to have you back to read more of my things my brain   babbles to me.
With that, I will leave you with one more sentiment: the past is your lesson, the present is your gift and the future is your motivation. Go forward as prosper!
Love and light,
Xoxo Barbie
---
9 comments