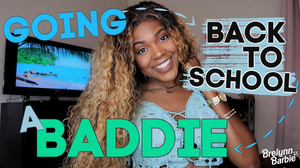 Going Back to School a Baddie- A Back To School BlogHaul
Heyyyyyy!
It's time for another blog-haul!
All the pieces are from SheIn and they range from perfect casual outfits for class, to the perfect weekend outfits.
If you're interested in any of these items check out the links below as well as use the coupon code: 15bhunt(15% off ANYTIME)or use the back to school coupon code: BTS304 for 15% off any purchase between Aug 13th -- Sept 30th
Without further ado, here are the pieces:
Outfit #1 is perfect for layering! I love a classic white top, and this one is perfect because its a bodysuit, so it tucks smoothly into any bottoms, and it doesn't show too much skin like a crop top. It fits like a dream, and I am in love with the way the neckline crosses over in a conservative way. This top will be in my wardrobe for a very long time. 
  Solid Surplice Bodysuit: http://bit.ly/2NYRsvy 
Outfit #2 is a favorite of mine! It's so unique! I love the color, the lace, and the style. Also, the mint shorts can pair well with different tops, (like the bodysuit I just mentioned) which is a great bang for my buck!
   Guipure Lace Lace Up Crop Top & Shorts Set: http://bit.ly/2O2lheR
Outfit #3 is more mint! It's a simple fit and flare dress with ruffle details on the sleeves. It's so flowy, and girly, and easy to throw on without thinking, while still looking put together. 
   Ruffle Strap Fit & Flare Dress: http://bit.ly/2NWZXqW
Next up, outfit #4 is a surprise for me! I regretted choosing this item once I made the final order, but then I tried it on and.... WOW. This skirt is a BANGER! It fits like a glove, it's so trendy and unique. It's faux-leather, and it has a belt detail that snatches the waist. I don't know when or where I will wear it just yet, but I know that when I do, it will be a slay to remember. 
  Notched Waist Buckle Belted Skirt: http://bit.ly/2NX06dY
Outfit #5 was a favorite from the beginning. I've actually already worn it before (check out my LA vlogs to see it in action). I love the mint color and design of the romper. The worker's suit look is soooo trendy! I definitely recommend. 
 Exposed Zipper Belted Romper: http://bit.ly/2NWZNQm
Next item is another dress, bringing in that HEAT for an upcoming orange vibes. Neon never goes out of style, and this dress is perfect for back to school weekends because it is simple, easy to throw on, and its bodycon! The material is amazing and it fits like a glove.
The Neon Orange Form Fitted Ringer Dress: http://bit.ly/2N0wlqN
Outfit #7 is a back to school favorite of mine from SheIn. I love these bright colored shift dresses that they have. Once again, classic, simple, easy to throw on without thinking too hard, and you still look put together and presentable. You can dress these up or down depending on your personal style, and you can wear them to school, class, work or church. This style of dress is a MUST BUY!
 Neon Orange Scallop Edge Tunic Dress: http://bit.ly/2MXin8Q
Outfit #8 is more orange, but it is casual and fun. I really like SheIn's graphic tees because the material is soooo high quality, but they aren't expensive. The bright color + the fun quotes make them a no brainer choice for back to school on your chill, casual days. I plan to wear mine tied up with biker shorts, but if you want an oversized look, go up a couple of sizes. And don't worry if you're not into orange, these pieces are available in a wide array of colors. 
 Neon Orange Slogan Print Tee: http://bit.ly/2MYflBk
Next outfit is my go-to style for back to school because it is comfortable, and put together without you having to try. The two piece set is my signature rose pink, and comes with a short sleeve top with cuffed sleeves and soft shorts with an adjustable belt. Throw on, accessorize, and go. It's so easy, you can't pass up outfits like this.
Simplee Solid Rolled Cuff Top & Ring Belted Shorts Set: http://bit.ly/2MXiv8k
Last outfit is very similar to the last, it is another two piece set. The material of this is TO DIE FOR! It literally feels like you're wearing pajamas! The shorts are also a great length, anddddddd they have pockets! Trust me, you need this set.
  Letter Print Tee With Snakeskin Print Belted Shorts: http://bit.ly/2MZsCJR 
#SHEIN #SHEINBACKTOSCHOOL #SHEINgals
Those are all of my new pickups for this back to school season! I hope you all enjoyed my #BlogHaul What trends are you looking to rock this school year?
If you want to see these pieces on, check out the try-on haul integrated in this vlog:
Thank you for reading!
Love and light,
xoxo Barbie 
---
60 comments