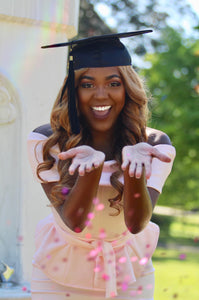 The Beauty and Brains Blog
Wow.
So here we are. I finally did it! I am still in such amazement because if you are reading the words I'm typing, that means that my Beauty and Brains Apparel line is live!
*Ahhhhhh* 
I just want to take this opportunity to thank all of my subscribers on YouTube, and supporters on my other social sites for encouraging me to go beyond my comfort zone to create the brand for the enjoyment of boys and girls alike. 
Here is what you can expect on the Beauty and Brains Blog: a whole lotta me.
Raw. Unfiltered. Babbling. Me.
This will be my space to talk to my Double Majors about everything that I feel is relevant to my life. Please subscribe to my newsletters because in addition to my blog post notifications, you will be updated on new or special releases in regards to the apparel line!
Lastly, this will be THE space for the Beauty and Brains community to flourish! I'll use this platform to speak directly to you, so feel free to talk back to me, and those in the community about the topic at hand, or whatever is on your mind!
I have some amzingggggg things coming. I hate to sound cliche, but it's true; this is only the beginning. I feel so blessed to be able to expand my platform in these ways, and I would be forever grateful for your continued love and support. I know that I wouldn't be here without any of you so thank you! Now, let's continue to secure this bag, and slay the game together, growing in intellect and wisdom, one day at a time.
Forever Yours with Love,
Brelynn
---
12 comments